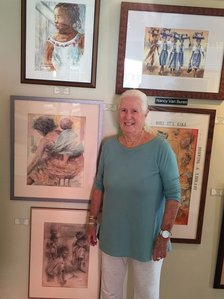 INTRODUCING ARTIST NANCY VAN BUREN

Nancy Van Buren is already well known by many of us living on the coast of South Carolina, but for those who have not had the privilege, we at Island Art Gallery invite you to get to know her and her wonderful art.

Nancy moved from Pennsylvania to Greenville, SC at the invitation of Arthur McGill in 1977. From Greenville where she served as Design Director in fabrics and color matching for Her Majesty's Corporation, she moved to Gaffney, SC and became the Director of Design for Hamricks.

Nancy has always been interested in art. She studied fashion design and grew up drawing, which you will note immediately upon seeing her present exhibit at Island Art Gallery. She taught Fashion Merchandising at Limestone College, while still employed with Hamricks. She received a BFA from Moore's College and an Honorary Masters from Limestone.

Upon her retirement she moved to Litchfield. She served as a volunteer for Brookgreen Gardens, and continued her pursuit in the field of art after contacting Bruce Chandler. She works mainly in watercolors and pen and ink. At present she is a member of the South Carolina Water Media Society, the Georgetown County Water Color Society, Seacoast Art and Waccamaw ACG. Nancy's work has been featured in many shows and her work hangs in private collections from here to South Africa and Singapore!

As if she were not busy enough, her plan is to visit Alaska next August to paint. Her dream is to visit the National Parks countrywide and paint and enjoy the scenery. Nancy is already a world-traveler having visited 7 continents, including painting in Africa on 4 different occasions. Some of Nancy's work from her African visits are now showing at Island Art Gallery.

We invite you to come in and see Nancy's work presently on display in the gallery and appreciate this fine talent. Island Art Gallery is located within the Village Shops, 10744 Ocean Highway, Pawleys Island, SC. Look forward to seeing you!