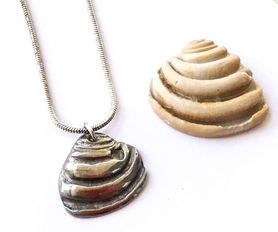 Silver Shells
Imperial Venus
By
Patricia B. Mitchell
.
The surface of this shell looks like it has been contour-plowed, with deep furrows between its 5-8 broad, concentric ribs. The ribs do not narrow markedly as they near the margins of the shell. The bivalve, a hard-shelled clam, may reach a length of 1½ inches, and is cream- to grayish-white, sometimes touched with brown. It is very sturdy and only slightly inflated. Its outline is vaguely triangular. When fresh, the shell is very glossy.
(Also, known as the Pawley's Island Shell.)
Create your own beautiful fine silver "Pawley's Island" shell for a gift or for yourself. All levels welcome! In this class, you will use silver clay to make a fine silver replica of an original Imperial Venus sea shell, better know here as the Pawley's Island Sea Shell. The shell can be used as a pendant, earrings or a charm.
A materials fee of $25.00 is payable to the instructor in class. The materials fee includes the Silver Clay and findings needed to complete the project. All tools and materials provided.
Island Art Gallery, Pawleys Island, SC
Date: May 5, 2018​
Time: 10:30-2:30
Course fee: $75.00