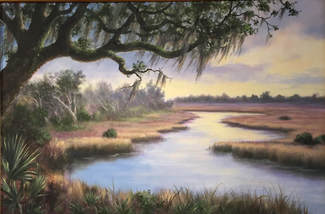 Mark your calendars for our 2nd Artist in Actions Demo Day on August 26th, 2017 from 11 am - 4 pm. Stop in and meet four of our artists, observe them in action, ask questions and enjoy being a part of our artist community for a while.

Joining us on Saturday the 26th are:
Cathy Turner, oil on canvas landscape/bird artist
Cindy Silvers, Artist of Oriental art mixed with modern techniques
Terry Strawser, printmaker/watercolor artist
​Dori Ellis, oil on canvas artist

Above: Cathy Turner, "Purple Haze", oil on canvas
​
Paintings Above:
​Cindy Sivers, "Walk this Way", Mixed Media on canvas;
Terry Strawser, "Friends", etching;
Dorie Ellis, "Blown 2", oil on canvas

***all paintings above are currently available for sale at Island Art Gallery.